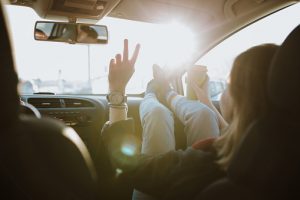 In the state of New York, countless teen drivers are involved in fatal car collisions each year.  Even a single death is devastating, but unfortunately teenagers face the most substantial risk of any demographic group of being killed in a car crash. Teens are especially at risk of getting hurt or killed in a wreck if they have any passengers in the car at the time when a young person is driving.
Buffalo Collision Shows Risk For Teen Drivers & Passengers
This past winter, one of many collisions involving teen drivers occurred when an 18-year-old driver became involved in a crash with a snow plow. Buffalo News reports the 18-year-old's vehicle moved across the center turn lane and crossed over into the eastbound lane where it struck one of three plows which were on the road at the time.  A passenger in the car, who was 16, sustained injuries including cuts and a fractured vertebrae. Both the driver and passenger who were injured were taken to Erie County Medical Center for treatment.
The teen was issued two tickets in this case, with the first citation indicating he had moved from a lane unsafely and with the additional citation indicating he had failed to keep right. The reasons for the accident are still under investigation.
The fact the teen had a passenger in the car with him was a contributing risk factor to a crash occurring.  A recent study from AAA Foundation for Traffic Safety clearly demonstrates dangers associated with young people having passengers in the car as they drive.
Having even one other passenger nearly doubles motor vehicle collision risk among teen drivers. The crash risk per mile doubles as soon as there are two passengers, and quadruples in situations where at least three additional passengers aged 21 or under are in the car with the teenaged driver as he is operating a vehicle.
CBS News, reporting on another recent study, revealed having passengers in the car was very risky for young people because these passengers could be more of a distraction than cell phone use, than eating, or then reaching for items inside of the vehicle.
Graduated licensing laws in New York recognize the dangers of having multiple passengers and impose a restriction on teens who have not yet become eligible for their full license available at age 18 (or aged 17 if the teen took driver's education).  Teens without their full license are allowed to have only one passenger under the age of 21 in the car with them at a time.
Graduated licensing laws limiting passengers can reduce dangers of crashes, but since NY law still allows one passenger, teens who drive around with at least one friend will continue to face a higher chance of a fatal crash.
Attorney advertising.