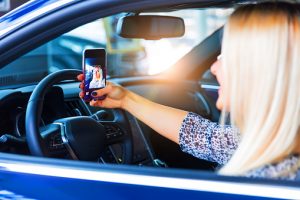 Distracted driving has become an increasingly pervasive threat to public safety in recent years. Now, New York Governor Andrew Cuomo is taking measures to make it easier for law enforcement officers to cite drivers who have violated laws banning mobile device use while driving.
The hope is that this measure will drive down the number of distracted driving accidents in New York. Given that distraction is cited as the primary reason for the uptick in traffic accidents nationally, addressing it is paramount.
Know also that following a distracted driving crash, those injured have legal rights which must be protected. At James Morris Law, we provide just that.
How to Test for Distracted Driving: the Textalyzer Test
Business Insider reports that Governor Cuomo's order directs the Governor's Traffic Safety Committee to examine a new device which allows officers to quickly check for recent mobile device use after an auto accident. This technology is known as the "textalyzer", and in many ways, it is legally similar to the use of a breathalyzer to check for impairment after an auto accident. The Governor's Traffic Safety Committee has been tasked with reporting on the technology, civil liberties issues surrounding its use, and the privacy implications of such a device.
Mobile phone manufacturers are also attempting to address this problem by improving and enhancing "do not disturb" features on smartphones. As usual, Apple has been at the head of this trend. Business Insider reports that the iOS 11 operating system for iPhone – due for release in late 2017 – will include a comprehensive "do not disturb while driving" function. This function will automatically detect when a user is driving and engage itself. The user receives no notifications and cannot access the home screen until he or she stops driving. The user can override this setting by following a series of prompts. While this override feature is necessary in the event that a user is the passenger (not driver) of a vehicle, it leaves open the concerning possibility that users can override the feature and use a fully accessible smartphone while driving.
How Motorists Can Curb Distracted Driving
Do Not Disturb features raise a broader discussion into the issue of distracted driving. Distracted driving is responsible for thousands of deaths and injuries every year. In fact, Apple's move to introduce the comprehensive function for iOS 11 comes after it was sued for failing to include such features in earlier versions. According to the Guardian, Bethany and James Modisette sued Apple for the wrongful death of their five-year-old daughter, who was killed in a car accident by a driver using FaceTime while driving. The Modisettes alleged that Apple held patents on technology to lock out iPhone functions while driving, but had failed to implement them in their products, thus contributing to their daughter's death.
While the improvement and expansion of Do Not Disturb features can certainly help target the problem, it falls to each individual driver to accept personal responsibility for implementing safe driving habits. No technology can completely eradicate the dangers of distracted driving. No Do Not Disturb feature can be forcefully implemented in every driving situation. Only a personal commitment to avoiding distractions can prevent a driver from becoming distracted. Passengers should speak up when they notice their driver is becoming distracted. Parents should implement and enforce specific guidelines for their teen drivers, whose inexperience makes distracted driving particularly dangerous for them.