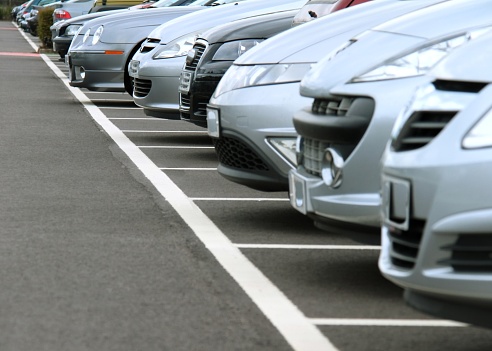 There's a common misconception that parking lots are generally safer than major roadways. Rarely do you ever see cars zipping through plaza parking lots at 50 mph.
Two-car crashes in parking lots are generally minor. Pedestrians, however, are at the greatest risk of being struck. Earlier in 2019, a pedestrian was killed in a mall parking lot in Hamburg, NY, according to WKBW. The driver, who was reportedly having a medical emergency, rear-ended an SUV, which then struck a pedestrian.
Recently, in Monroe County, a pedestrian was struck by a car in a Wegman's parking lot. She was taken to a nearby hospital where she later succumbed to her injuries.
When pedestrians are struck in parking lots, it often happens unpredictably.
Distracted driving
Distraction is very common in parking lots. Some drivers feel that it's safer to use cellphones behind the wheel while traveling at a low speed.
In 2016, the National Safety Council conducted a survey on how often drivers use cellphones and other electronic devices. Approximately 66 percent of adult and teen drivers admitted to making phone calls while driving through parking lots. In addition:
63 percent programmed a GPS
56 percent sent a text
52 percent used social media
50 percent sent or received an email
49 percent took photos or watched videos
Distraction doesn't always involve cellphones, however. Some drivers could be distracted by taking their eyes off the road to look for parking spots, check store hours, or search for a specific building.
Speeding and limited visibility
In busy parking lots, pedestrians are everywhere. Drivers must be extra cautious and be prepared to stop at any given time.
Visibility is often a problem in congested parking lots. Here's why:
Difficulty backing out of a parking spot: When backing out of a parking space, drivers must check their rearview mirrors and look both ways (sometimes multiple times) before backing up. When backing out of a parking space between two other vehicles, it can be difficult to see if a pedestrian is about to walk by.
Difficulty seeing around corners: A line of parked cars can be blinding when navigating turns. When approaching the end of a row, drivers should stop and look both ways before making a turn. The same applies when turning into a row.
What can I do if I'm hit in a parking lot?
If you were struck by an inattentive driver while walking in a parking lot, it's critical that you first start gathering as much evidence as you can (if you're able to). You may do this by taking photos of the crash scene and speaking to witnesses. If the incident happened in a commercial parking lot, a surveillance camera may have captured it. The footage may be subpoenaed by police or the attorney handling your case.
You should then seek immediate medical attention, even if you don't feel hurt. Sometimes, the adrenaline and shock experienced after an incident can mask the pain of an injury. A medical evaluation can identify any underlying injuries that need to be addressed and provide your attorney with solid evidence to help you build a strong legal claim.
To find out which legal options are available to you, contact The Law Offices of James Morris and schedule your free case evaluation. We serve clients in Buffalo and across western New York.