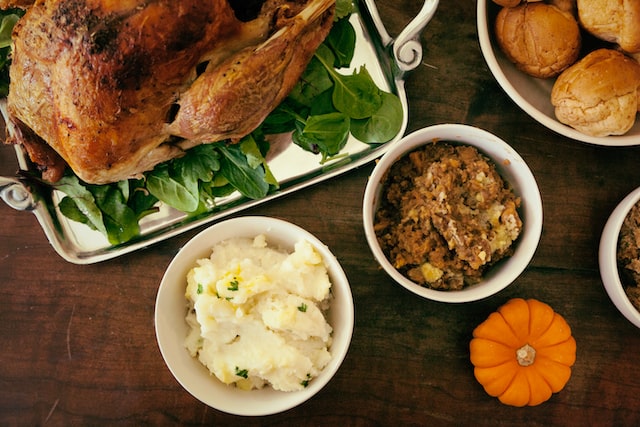 Thanksgiving is the time of year when family and friends gather together to celebrate and reflect on all things they are thankful for, and maybe watch a football game or two!
Plans usually vary from visiting together on far-away trips or traveling to a close friend or family's home by car to celebrate the day. There will be an increased number of vehicles on the road. It is important that you practice safety while traveling to where you'll be spending the day.
This time of year in Western New York, it can be rather tricky to navigate the roads. It is important to have a plan for the day to ensure safety getting to and from the gathering place. Some tips for having a great Thanksgiving are:
Remember to pull the turkey out of the freezer and allow it enough time to thaw!
If you're traveling to someone else's home, be sure to plan when you'll be leaving ahead of time to avoid the very likely traffic delays.
If Western New York is showing its wintry side, dress warm and leave yourself plenty of time to take it slow on the roads during your travels.
Be careful if you're playing a game of football with friends or family, protect your head, and try to leave the tricks like hurdling people to Josh Allen.
If you will be consuming alcohol during the festivities, be sure to have a ride home. Do not drink and drive.
If you are hosting the holiday and your loved ones, be sure to keep the tips from the NFPA (National Fire Protection Association) in mind:
Top 10 Thanksgiving Day Safety Tips
Stay in the kitchen when you are cooking on the stovetop so you can keep an eye on the food.
Stay at home when cooking your turkey, and check on it frequently.
Keep children away from the stove. The stove will be hot and kids should stay three feet away.
Make sure kids stay away from hot food and liquids. The steam or splash from vegetables, gravy, or coffee could cause serious burns.
Keep knives out of the reach of children.
Be sure electric cords from an electric knife, coffee maker, plate warmer, or mixer are not dangling off the counter within easy reach of a child.
Keep matches and utility lighters out of the reach of children — up high in a locked cabinet.
Never leave children alone in a room with a lit candle.
Keep the floor clear so you don't trip over kids, toys, pocketbooks, or bags.
Make sure your smoke alarms are working. Test them by pushing the test button.
Thanksgiving is the time to look back and reflect on your life with your people and all the things that you are thankful for. Make a plan ahead of time to make it as safe as possible.
Happy Thanksgiving from James Morris Law!