Speeding is a Major Factor in Buffalo Auto Accident Fatalities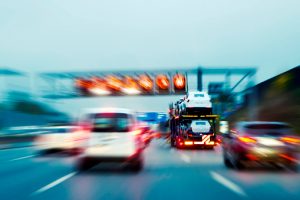 With so much media attention on drunk driving, it can be easy to forget that one of the greatest dangers faced on the roads is simple speeding.
Speeding increases the force generated by a collision, which in turn increases the severity of injuries sustained, and also increases the likelihood that those injuries will be fatal. The World Health Organization reports that an injury victim is twenty times more likely to die in an impact at 80 kilometers per hour (49 mph) than impact at 30 kilometers per hour (19 mph).
After any auto accident, an experienced Buffalo car accident attorney will help injury victims identify all contributing factors and all parties responsible for causing their injuries, to secure the fair legal compensation to which they are entitled. At The Law Offices of James Morris, we work tirelessly to ensure each victim gets the maximum compensation that they deserve.
Speeding Fatalities Are on the Rise
After the economic crash of 2008, fewer vehicles were on the road, and traffic fatalities experienced a corresponding drop. The Washington Post reports that United State traffic fatalities hit an all-time low in 2011. Unfortunately, traffic fatalities have been steadily climbing ever since. Now, in 2017, more than eighteen thousand people died on the road between January 1 and June 31. Another 2.1 million people were seriously injured in car accidents during that same time. Despite some improvements in safety, hundreds of injury victims die on the roads of America every day. According to the National Transportation Safety Board, speeding accidents caused more than one hundred thousand deaths in the United States between 2005 and 2014.
Speeding and speeding-related accidents are more likely to occur in areas which do not use photo enforcement programs. The National Center for Biotechnology Information published a longitudinal review of studies which measured the efficacy of automated enforcement technology programs. Of twenty-eight studies reviewed, every single one reported a lower number of crashes after implementation of a speed enforcement technology program. Bloomberg reports that such technologies are widely acknowledged to be an effective deterrent to speeding, but that they are currently only used in fourteen states and the District of Columbia. Their efficiency has caused the National Transportation Safety Board to recommend that states remove laws which prohibit the use of such technologies.
What You Can Do to Avoid Speeding-Related Accidents
The reason photo enforcement technologies are so effective is that they hold drivers accountable for their driving behaviors with definitive, visual proof of their actions. Until an individual driver accepts personal responsibility for safe driving habits, no amount of enforcement will reduce speeding accidents.
Friends and family members should speak up when a driver's speed is not safe, especially when it becomes a habit. While this can be an uncomfortable discussion, it is one that can save lives. There are also immediate benefits to eliminating speeding in your personal driving behaviors. Section 1180 of the New York State Vehicle and Traffic Law prohibits driving a vehicle at a speed greater than is reasonable and prudent under the current conditions and hazards.
Violation of this law can not only result in a traffic citation, but it can also make the driver legally responsible for causing any accident which occurs as a result. If you or a loved one has been injured by a negligent driver, contact an experienced Buffalo car accident attorney as soon as possible. You have the right to be compensated for your injuries. Contact us today.