The consequences of distracted driving are obvious – accidents resulting in injuries, property damage or even death. Yet, people continue their unsafe behaviors.
According to Psychology Today, distracted drivers:
Have reduced reaction times.
Are less aware of their surroundings, including traffic signs, other vehicles and pedestrians.
According to a 2006 study by the National Highway Traffic Safety Administration (NHTSA), distracted drivers cause:
78 percent of all crashes
65 percent of near-crashes
More recent studies show one out of every six fatal crashes – 3,116 in 2017 – are connected to distracted driving.
A major contributor to distracted driving (spoiler alert) is cell phones. In addition to talking on their phones, drivers use them for navigation and other things (especially texting among younger drivers).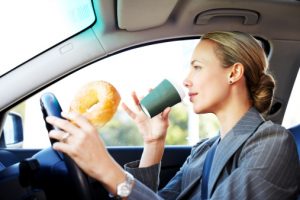 Why Can't People Keep Their Minds and Eyes on the Road?
A study in Canadian Psychology examines some of the factors that lead drivers, especially younger motorists, to ignore the dangers of distracted driving:
Attitude toward phone use: Young motorists often believe maintaining a presence on social media is worth the risk of unsafe driving.
The illusion of control: Young drivers have unrealistic confidence in their ability to drive safely while engaging in distracting activities.
Age: Older drivers have the benefit of more driving experience and, generally speaking, engage in safer driving practices, perhaps because cell phones are a new technology to them.
Hands-free technology: Bluetooth, voice-recognition technology and other innovations give young drivers a false sense of security. The simple fact, supported by research, is that any distraction has a negative impact on safe driving.
Injured in a Distracted Driving Accident? Now is the Time to Speak to an Attorney.
A distracted driving accident changes your life for the worse in less time than it takes to place a call. You may be seriously injured, unable to work and provide for your family as growing medical bills threaten your way of life. The distracted driver who caused your accident is unlikely to accept responsibility and may even blame you. The legal system is a frustrating puzzle to the outsider. Then you have an insurance company trying to take advantage of your desperation by pressuring you into accepting a lowball financial settlement.
The Law Offices of James Morris can help you put your life back together. Serving Buffalo and western New York, their team has decades of experience handling cases just like yours. Personal injury lawyer James Morris and his staff will investigate your accident, handle all of the legalities and deal with insurance companies – taking them to court, if necessary, to win a financial settlement that covers all of your costs and brings you peace of mind.
Contact us today for a free case consultation.