Recently, major highways in Buffalo had to shut down as a result of a series of accidents during a winter storm. WIVB reported on the accidents and the resulting shutdowns of roadways.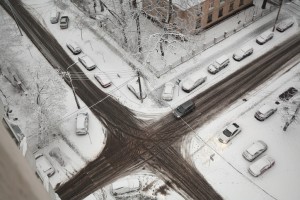 In one incident, all lanes of I-190 Southbound were blocked as a result of a tractor trailer truck which jack-knifed. The incident happened between Exit 6 and Exit 7 and fortunately no one got hurt.  Shortly before 6:00 PM on the same day, the right lane of I-190 Southbound was closed at Exit 16 because of a different crash. Route 5 also closed for four miles; Route 219 beyond Mile Strip Road had a closed left lane because of a car accident; and the Skyway shut down completely due to bad weather.
The winters in Buffalo are bad, and a series of accidents like these typically happen during storms or when there is a lot of ice on the roads. While snow and ice are inevitable, however, there are things motorists can do to try to reduce the number of winter-weather accidents happening on Buffalo roads. In particular, drivers should know what to do if their cars start to spin out on an interstate or at an intersection.
Interstates and highways are common locations for winter weather accidents because of the close proximity of vehicles. Cars traveling close together are more likely to hit each other if weather conditions are bad. Close proximity of vehicles also means if any car spins out, it's probably going to cause a multi-vehicle accident that could even lead to a pileup.
Since there are dangers at intersections and interstates, drivers should be aware of the risk and try to stay safe.  One of the best ways to do that is to know how to react if your car starts to spin out and you feel yourself losing control.
If you find yourself in this situation, determine if it is your front or rear wheels skidding. If your rear wheels are skidding on ice, try to steer the car in the direction where you want the front wheels to turn.  For example, if you feel your rear-wheels begin to slide to the right, turn your steering wheel to the right to try to take the front wheels with it. You could potentially have to try to turn your wheel multiple times both left and right before you can regain control.
If your front wheels skid, you should try to shift the car to neutral right away. The skidding front wheels are going to slow the car down naturally which can make it easier for you to gain traction. Steer the car in the direction that you wish the vehicle to move. Once you have regained control, you can switch the car into drive and accelerate slowly to get back on your way.