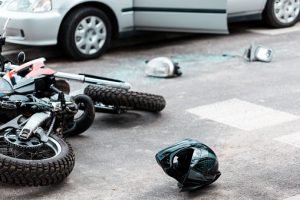 Recently, a 40-year-old Buffalo man died in a motorcycle accident when his motorcycle was involved in a crash with another vehicle. Buffalo News reports the accident happened at Fillmore Avenue and East Delavan and occurred shortly after 7:30 p.m. Police were investigating the cause of the collision and asked witnesses to call with information.  The Buffalo News also reported police were asking for information on another unrelated motorcycle accident which had occurred in the North Tonawanda area.
Unfortunately, as warmer weather arrives in the Buffalo area, more reports of motorcycle crashes are likely to hit the papers. This is because warm summer weather brings more people out on motorcycles to ride for pleasure or to ride to commute. Drivers, who may not be as used to seeing motorcycles on the road after a cold and snowy winter, now need to make sure they are taking extra precautions to avoid hitting and injuring or killing a motorcycle rider.
Avoiding Motorcycle Accidents During the Summer Months
A rise in motorcycle accidents does not have to be inevitable just because there are more motorcyclists on the road. Drivers and motorcycle riders can all do their part to exercise caution and try to prevent collisions.  To reduce the chances of a motorcycle accident happening as temperatures rise:
Drivers and motorcycle riders should stay sober: Drunk driving is a contributing factor to many motorcycle accidents. Don't drink and drive or drive after using drugs.
Drivers should leave plenty of space around motorcycle riders. Drivers need to leave a gap between their car and the motorcycle so they can stop in time if the motorcyclist does something unexpected. Motorcycle riders are more vulnerable to changes in road surface and more at risk due to debris in roadways than people in cars, and drivers need to be aware motorcyclists may need to react to a road problem.
Drivers should follow the rules for yielding the right-of-way to motorcycle riders. Many drivers don't successfully judge how fast motorcycles are going and thus they end up cutting off motorcyclists or striking them. Drivers should make sure to yield the right-of-way and not try to enter an intersection when it is a motorcycle rider's turn.
Drivers should look twice before they turn or before they change lanes. It can be harder to see a motorcycle, which is much smaller than a passenger car. Don't just rely on mirrors to make sure the lane is clear- actually take a look before you change lanes and accidentally hit a motorcycle rider.
By following these tips and otherwise exercising caution and following traffic safety rules, hopefully drivers can help to prevent motorcycle accidents which would otherwise be likely to occur as the weather gets warmer and more motorcycle riders take to the roads.