New York Aggressive Driving Leads to Road Rage, Personal Injuries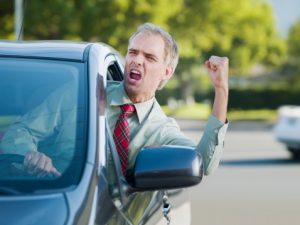 New York state is known for having some of the most aggressive drivers in the country. Triggered by a bad morning, a personality quirk, or frustration with other drivers, the screaming, shouting and gesturing you often see on the road became known by a simple descriptor: "road rage". And it kills. One study by the Affinion Group found that New Yorkers' behavior was especially prone to agitation on the road and they were likely to provoke or intimidate other drivers through impulsive, often irrational behavior.
More recently, the gun violence focused non-profit news organization The Trace, reported that cases of road rage involving a firearm more than doubled from 247 in 2014 to 620 in 2016. In the three-year period examined, there were at least 1,320 road rage incidents involving guns, resulting in 355 injuries and more than 135 killed.
Aggressive driving is deadly in and of itself. When it escalates and turns into hostility with a target, the stakes on a drivers' life are even higher. From an injury law standpoint, road rage can be more complicated than aggressive driving because most auto insurance companies won't cover damages for injuries that are inflicted intentionally.
Specifically, the Insurance Information Institute cites that road rage incidents are often listed as an exemption in many auto insurance policies because it's not considered a true "accident." For this reason, as well as your own personal protection, it's best to drive defensively, especially if you notice any signs of potential aggressive driving from surrounding drivers, such as:
Tailgating
Weaving through traffic
Running stop signs/ lights
Racing another driver
Lane blocking
Illegal passing
Excessive speeding or erratic changing of speeds
Extreme acts of aggression between drivers are considered "road rage" and are a major cause of (often fatal) accidents.
There are several triggers for road rage. More drivers are on the road, and congestion can lead to delays and mounting frustration with traffic, and other drivers. Rushing is another cause; drivers that believe in the need for speed in order to make up lost time can often become the accident that causes rubbernecking traffic. That's why it's so important for drivers to give themselves as much time as they can to get to their destination. It will lower stress levels and decrease the chances of unsafe and aggressive acts behind the wheel.
Distraction is another cause for aggressive driving. Those on their cell phones aren't paying close attention to their surroundings or their own actions. While their actions may not be intentionally aggressive, it can come across that way and it may spur frustration and aggression in other drivers.
In many cases, these actions aren't intentional, and are simply impulsive responses to frustrating situations not personally aimed at another driver. Even if they are, responding with more aggression only escalates the situation. By being polite and courteous (even when the other driver isn't) we help protect ourselves and those around us.
New York state does not specifically have an aggressive driving statute. However, as our Buffalo car accident lawyers can explain, New York Reckless Driving (V.T.L. 1212) outlines the consequences for reckless driving, which can include a fine of up to $500, and possible jailtime.
From a personal injury standpoint, reckless driving resulting in injury is likely compensable.
New York follows a "no-fault" system of auto insurance coverage, meaning if you are injured, you will first file a claim for damages with your own insurer through your personal injury protection (PIP) plan. Persons who suffer serious personal injury may take action against other covered persons at-fault in the crash.
If you've been injured by a reckless driver, you need a ruthless attorney on your side. Representation is key when it comes to receiving proper and deserved compensation for your injuries. We aim to help restore your quality of life, and get you the justice you're entitled to. Contact us today for a free case evaluation. No charge, no risk, no focus on anything else but your needs.