Back To School Safety Tips For Buffalo Students and Parents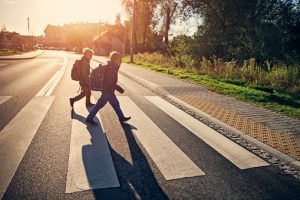 Back to school is an exciting time of year for Buffalo families. It's also packed with potential hazards, as an influx of buses, heavy school zone traffic and high concentrations of inexperienced teen drivers significantly increase the risk of sustaining auto accident injuries. According to the National Safety Council, more children are hit by cars near schools than at any other location.
Accidents Put New York Students in Danger
There are many dangers which New York students face in and around school zones. One young girl in Springville died after being pinned under a school bus. According to WKBW, the incident was noted as a "a tragic accident." In another case, an 11-year-old Watertown boy was struck in a crosswalk near Case Middle School. The Watertown Daily Times reports that the 22-year-old driver of the Ford Escape which hit him said she simply did not see him. The boy was taken to the hospital with minor injuries.
In Bayside, New York, a woman from Queens was speeding through a school zone at thirty-five miles per hour- faster than the posted speed limit. The New York Daily News reports that she crossed into oncoming traffic and collided with a car carrying a mother and her two daughters. All three were killed. The wrong-way driver was sentenced to twenty-two years in prison.
How Buffalo Students, Parents, Teachers and School Staff Can Stay Safe
Familiarize yourself with drop off and pickup procedures at your child's school before the school year starts. Heavy traffic and impulsive children can make it difficult to know where to go once school is in session.
Do not double park or otherwise block visibility. In crowded conditions, it is especially important that drivers be able to around other vehicles.
Teach your teen driver to be particularly cautious in and around their high school. High schools have high concentrations of young, inexperienced drivers. Teen drivers should be prepared to respond to erratic movements, pedestrians, heavy traffic, and other hazards they will face at their school.
Do not make impulsive or unexpected movements. In a crowded parking lot, other drivers will often have no space nor time to react to your movements. Signal movements well in advance, and execute movements slowly to ensure your path is, indeed, clear.
Be prepared to react to sudden movements from both other vehicles and children entering or exiting the school. Young children are especially impulsive, and do not always follow proper safety protocol near schools. Allow yourself enough time and space to react to any unexpected obstacles.
School zone safety is dependent upon everyone in the area. By staying alert, slowing down, and implementing safe driving habits on a consistent basis, the school zones of Buffalo can be made safe for everyone.
In September 2003, the Vehicle & Traffic Law was amended to alter the hours of operation as well as the maximum length of a New York school speed zone (0.25 miles), as well as regulations about speed limit posting in school zones. The minimum school speed limit is 15 mph.
After any accident, injury victims have the legal right to be compensated for their injuries. If you or your child has been injured in a school zone accident, contact a Buffalo car accident attorney as soon as possible. They have legal rights which must be protected.