Buffalo Intersections a Primary Winter Accident Threat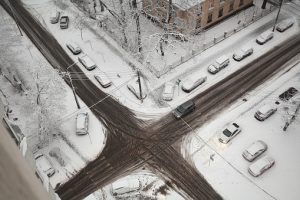 Intersections are natural points of conflict on the roads. They are the place where traffic risks comes to meet.
A dangerous intersection in Amherst, NY, nicknamed "death corner," is receiving special attention from the local traffic safety board, according to ABC7. Neighbors report numerous serious collisions, including rollover and entrapment accidents.
But when you add winter weather to the mix, traveling through intersections is the most dangerous thing most of us will do over the next few months. Most winter accidents in Buffalo can still be prevented, but extra vigilance will be critical.
Winter accidents in Buffalo – Safety and Liability
Poor weather only complicates the job of determining fault after an intersection collision in Buffalo. Intersection accidents are often already complex cases. Failure to yield, following too closely, running red lights, speeding and distracted driving are all common causes. Bicyclists and pedestrians are frequently involved. And involved motorists are sometimes entering or exiting private drives or parking lots.
Following an accident, there are many actions you can take to help your claim. Carefully documenting the scene with cell phone photographs is a good first step. But when winter weather is a factor in a serious or fatal collision, consulting an experienced Buffalo injury lawyer in a timely manner becomes even more critical.
Documenting weather conditions before they disappear is challenging. But the critical need to determine causation and identify all at-fault parties does not change just because of ice and snow. In fact, proving an at-fault party failed to use reasonable care can be even more critical when poor weather is partially to blame.
For instance, something as simple as clearing ice and snow from your hood and windshield can have a significant impact on accident risks, both for you and for other motorists on the road.
New York law is in flux on the issue of a motorist's responsibility to clear ice and snow from their vehicle, with lawmakers having introduced several pieces of legislation in recent years. As of the start of 2018, the trucking industry is opposing a measure that would apply specifically to tractor trailers and other large commercial vehicles.
Resolving to be a safe driver will not only improve your odds of avoiding a weather related collision, but also reduce the chances you will be found at fault if a crash does happen.
Tips for safe driving this winter
Plan to stop well before reaching an intersection and remain alert for pedestrians or other points of potential conflict. Always be prepared to yield the right of way. Don't assume an approaching motorist can or will stop even if you have the legal right to proceed.
Obey all traffic control devices and signals. Running yellow lights becomes particularly dangerous during bad weather, especially when visibility is reduced, because motorists require more stopping distance.
Overall, safe winter driving starts with planning. Lake effect snow can be particularly dangerous in Buffalo, where the weather is known to deteriorate rapidly. Buffalo News and AAA provide winter-driving safety tips.
Planning includes having your vehicle properly serviced. Nothing is more basic than appropriate tires and a good battery. During the first cold spell of the year, AAA reported more than 2,600 calls from motorists stranded in Central or Western New York because of a dead battery.
Travel with an emergency kit, a charged cell phone and at least half a tank of gas.
Beware of the dangers of black ice. Roads that appear clear, particularly bridges and highway exit ramps, may be covered in ice. Contact an experienced Buffalo auto accident attorney if you have been injured in a winter weather crash.