Clarence Bike Path Crash Raises Safety Concerns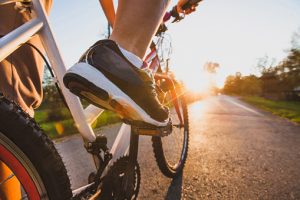 The bike path in Clarence where joggers, bikers and walkers go to enjoy autumn's outdoor splendor has recently become the subject of grave safety concerns.
As our Buffalo accident attorneys understand it, earlier this month a 53-year-old motorcyclist drifted off the road next to the path, plowing into a handful of pedestrians and cyclists, killing two of them and critically injuring another.
According to The Buffalo News, the stretch of road where this tragedy occurred is along an area where the path is directly joined to the road, with no separation of grass or even a dividing line. There are other sections of the path where dense woods create a clear divide.
The driver of that motorcycle has been arrested and charged with DUI and criminally negligent homicide.
But that doesn't change the fact that such an accident is not only possible again – it's likely, particularly if town officials don't take some action to implement additional safety precautions for those who use the path where it runs alongside Tonawanda Creek Road.
Town officials have indicated that there is no cause for serious alarm, as this incident isn't indicative of any pattern of serious accidents along this stretch. However, when you actually see the site of the accident, it's clear to understand why cyclists, joggers and pedestrians are alarmed.
Officials though have said that creating some sort of buffer might be difficult, as the land that is closest is mostly marshy and parts of the path have already become eroded as a result. Others have questioned whether such measures would be enough to stop a drunk driver.
The town's Planning Department officials said it would make the issue a top priority of discussion. That's a start.
And further on the subject of rising bicycle accidents in New York, it appears similar problems have been reported in New York City, where officials had previously held that pedestrians and cyclists were increasingly safer. Now, however, the Mayor's Management Report indicates that traffic fatalities in the city were actually up a shocking 23 percent between July 2011 and June 2012. It was the first increase since 2007.
Among bicyclists and pedestrians, deaths spiked to 176, from 158 the year before.
Authorities are blaming speed, DUI and ignoring traffic signals as the top causes of fatal accidents.
Bicyclists often wear helmets and are alert, but the responsibility primarily falls on motorists. Here are some ways drivers can avoid hitting those on two wheels:
Watch for bicyclists when turning left. This scenario accounts for almost half of all vehicle-versus-bicycle crashes.
Don't pass a bicyclist and then turn right. Wait for him or her to pass through the intersection before you make your turn.
When you are parallel parking, make sure to check your mirrors before you open your driver's side door. This will help you avoid "dooring" a cyclist.
Look both ways for bicyclists when leaving a parking lot.
If you've been injured in Buffalo or the surrounding area, contact the Law Offices of James Morris today for a free consultation to discuss your rights. Call 800-477-9044.