Rear-End Accidents Less Likely Due To Crash Prevention Systems, Study Reports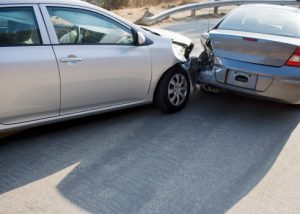 Front crash prevention systems installed in vehicles have reduced the number of rear-end accidents caused by drivers, according to a recent nationwide study analyzing different crash prevention technologies.
The Insurance Institute for Highway Safety (IIHS) conducted the study based on auto accident data gathered by police nationwide, according to Motor Trend magazine. The IIHS analyzed data for accidents involving vehicles equipped with automatic emergency braking systems and forward collision warning systems.
Such technological advancements greatly reduced (from 23 to 40 percent, depending on the type of warning or braking system) the number of rear-end accidents. "The success of front crash prevention represents a big step forward towards safer roads," IIHS chief researcher David Zuby said, according to the Motor Trend article.
How do front crash prevention systems work?
Front crash preventions vary depending on the vehicle manufacturer. In most cases, such systems work using a combination of motion-sensor cameras, lasers or radar to detect another vehicle.
Some car companies equip their vehicles with warning systems that alert drivers to a possible collision with another vehicle based on the distance between the two vehicles and their respective speeds. Other warning systems go one step further and automatically brake if the car is about to collide with another vehicle.
Such technology has the potential to significantly reduce the number of "rear-end crashes and whiplash injuries," Zuby explained to Motor Trend magazine. Whiplash is a type of neck injury caused by the violent forward, backward movement of a person's neck, especially during rear-end accidents.
In addition, pedestrians and cyclists will also likely benefit from such technology, since vehicles will warn drivers or automatically stop the car if the car drives too close to other people on the road, according to Consumer Reports magazine.
What can I do to avoid a rear-end car accident?
Vehicles equipped with crash prevention technologies are a great way to prevent rear-end accidents. But you don't need to have such technology in your vehicle in order to avoid a rear-end accident. When driving, make sure you leave a safe distance between your vehicle and other cars in front or back of you. A safe distance means you have enough time to safely come to stop if another driver hits another vehicle or stops unexpectedly. In general, a safe driving distance is two to three seconds between vehicles.
Other safety tips include:
Driving a safe speed (which can vary depending on weather conditions, especially in Upstate New York, where winter storms can be severe.)
Avoiding distractions while driving (don't eat or text while driving. Texting while driving is against the law in New York.)
Properly maintain your vehicle (have your brakes and tires checked regularly to make sure they're in good working order.)
Unfortunately, even the safest drivers sometimes have rear-end accidents. If another driver caused your rear-end crash in New York, contact our law firm immediately. We have years of experience working with people injured in rear-end car accidents. That's how we're able to consistently obtain settlements and verdicts that fairly compensate accident victims for the true cost of their crash. Contact us online or call 1-800-477-9044 to schedule your free case evaluation today.
Attorney Advertising.