Buffalo Car Accidents Distracted Driving Injury Risks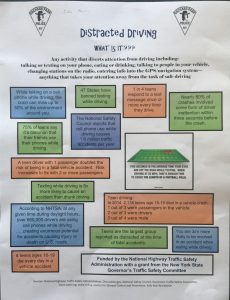 Authorities and safety advocates are bracing for the summer travel season by cracking down on all manner of dangerous driving behavior, including drunk drivers, speeders, aggressive drivers and distracted drivers.
For teenagers, the time between Memorial Day and Labor Day has the awful distinction of being the year's 100 Deadliest Days. While year-end holidays get the headlines when it comes to road carnage, the trio of summer holidays continues to rank among the deadliest. In order to promote safer driving habits, the National Highway Traffic Safety Administration (NHTSA), with a grant from New York State Governor's Traffic Safety Committee, has defined distracted driving.
Distracted Driving in New York: Definition of Dangerous
New York law prohibits hand-held cellphone use while driving. The law includes talking on the phone, using text, web browsing or e-mail features, viewing or taking images or playing games. Fines range from $50 to $450, and up to 5 points on your driver's license, which could result in suspension of driving privileges.
As state distracted driving laws go, New York's is among the most stringent in the nation. However, the law still permits use of hands-free devices, which the National Safety Council and other safety advocates continue to identify as posing a serious safety threat because of the distraction inherent in having a phone conversation while operating a motor vehicle. The National Safety Council (NSC) estimates drivers miss up to one-third of movement and half of what is occurring outside the windshield if they are engaged in a phone conversation – even with a hands-free device.
Other common causes of distraction include talking to passengers, dealing with children or pets, eating, drinking or grooming, and using GPS or other forms of onboard electronics or entertainment. Don't forget external distractions as the summer road construction season begins. Construction zones are among the most dangerous areas on the road for motorists and workers alike.
Distracted Driving Liability in Buffalo
Whether a distracted driver is held responsible for damages resulting from an accident will have more to do with consulting an experienced Buffalo injury lawyer than it will with New York driving laws.
While a driver's traffic infraction may go toward proving negligence under New York civil law, a criminal citation is not required. While not the same as carelessness, negligence under the law is failure to act as a reasonable person would to protect another from foreseeable risk of harm.
Proving negligence requires proving defendant owed a duty and breached standard of care, that breach resulted in injury, and that plaintiff incurred actual damages. Your personal injury lawyer will work to identify those responsible and their associated insurance coverage, while also working to identify the extent of your damages, which can include things like property damage, medical bills, lost wages, pain and suffering and cost of rehabilitation.