"Driving Selfies" Put New York Motorists At Risk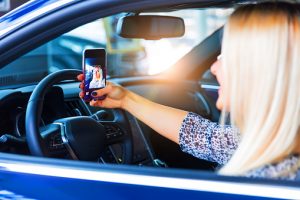 In the wake of warnings about texting while driving and playing games while driving, New York is now cautioning motorists against another type of distracted driving: taking "selfies" behind the wheel.
According to a new report published by the Auto Insurance Center, New York ranks eighth in the nation for #DrivingSelfies per 100,000 residents. That means thousands of drivers statewide are taking their eyes off the road to take pictures of themselves with their smartphones and upload them to social media.
New York has some of the nation's toughest laws against cell phone use while driving. The state law prohibits drivers from holding portable electronic devices, viewing, taking or transmitting images and transmitting, sending or retrieving electronic data while driving, all of which are involved when taking "driving selfies." Penalties include a $400 fine and five points on the offender's license.
But according to the Auto Insurance Center's report, state laws have done little to deter drivers from taking this risk on the road.
New York officials emphasized the need for drivers to think about the consequences of using their phones while driving, as WIVB 4 reports. Distracted drivers have a hard time staying in their own lanes, which means they could drift off the road and hit someone walking or jogging. They often cause rear-end accidents and even head-on collisions when they drift into the oncoming lane.
And because taking a picture takes the driver's eyes off the road for at least two seconds, driving selfies can be even more dangerous than texting or talking on the phone while driving.
People injured by distracted drivers have legal rights – and an attorney can help
Because using handheld electronics while driving is illegal in New York, people who are injured by distracted drivers may think their insurance will cover them without issue. Unfortunately, the truth is often more complex. The distracted driver may deny wrongdoing, or the insurance company may try to claim that the injured person did something else to cause the accident.
Even if the distracted driver is cited for using a cell phone while driving, it's important to remember that the police are there to deal with the offender, not to help the victim get compensation. And even if fault isn't disputed, the insurance company may try to downplay the extent of your injuries or find other ways to reduce your claim as much as possible.
That's why it's critical to retain an experienced lawyer as soon as possible after a crash. If distracted driving was a factor, your attorney will consult cell phone records, social media and witness reports to prove that the driver who caused your injuries was negligent. As with any car accident case, we'll also review medical records and other evidence to prove the full extent of your losses due to the crash, and we'll negotiate directly with the insurance company to make sure you are fairly compensated.