Going down the wrong path with wrong-way crashes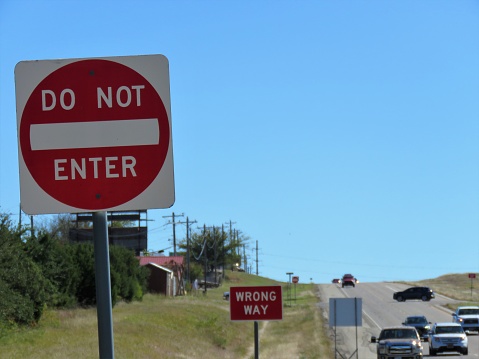 Even if you're responsible and practice safe driving habits, all it takes is one negligent driver to cause a car accident that changes your life forever.
While every crash has the potential to cause severe, life-threatening injuries, head-on collisions are easily the most deadly because of the force that's released when two vehicles going in the opposite direction collide, resulting in a devastating impact that is considerably more destructive than what victims usually experience in other types of motor vehicle accidents.
Common causes of head-on collisions include lane departures by motorists who are texting while driving, speeding, asleep at the wheel, or driving distracted — but wrong-way drivers, that is, those who drive the wrong way down a divided highway or ramp —  are actually the most at risk of causing a deadly head-on crash.
Unfortunately, these types of crashes are on an upward trajectory.
According to the AAA Foundation for Traffic Safety, there were about 500 deaths per year from the period of 2015-2018 due to wrong-way crashes on divided highways, an increase of about 34% when compared to the average number of annual fatalities caused by wrong-way drivers from the period of 2010-2014.
Experts agree that older drivers have a better chance of becoming wrong-way drivers, but those who pose the biggest risk are drunk drivers.
"Wrong-way crashes on divided highways are often fatal as they are typically head-on collisions. And unfortunately, as the data shows, fatalities from these crashes are on the rise." —  Dr. David Yang, executive director of the AAA Foundation for Traffic Safety. 
Drunk driving the biggest factor
A staggering 60% of wrong-way crashes involved a drunk driver, which is why AAA and the National Transportation Safety Board (NTSB) are increasing awareness and calling for countermeasures to help address the problem.
"Alcohol impairment is, by far, the single most significant factor in the majority of wrong-way driving crashes, which unfortunately has not changed since the NTSB issued its Wrong-Way Driving special investigation report in 2012," said Dr. Rob Molloy, NTSB Director of the Office of Highway Safety. "The important work done by AAA shows that we need to redouble our efforts to address this safety hazard."
To keep impaired drivers off our roads, the NTSB suggests:
Highly visible enforcement operations.
DUI checkpoints.
Promoting the installation of alcohol ignition interlock devices, a tool intended to prevent a vehicle from starting unless the driver provides a breath sample that results in a blood alcohol concentration (BAC) below a pre-set limit.
Crash data also reveals that drivers older than 70 have greater odds of being a wrong-way driver when compared to their younger counterparts. Analysts say certain steps can be taken to address the issue, such as driver refresher courses, installing more visible signs and signals, infrastructure improvements, and legislation to help identify drivers who may be at risk physically or cognitively.
Make your case count. Contact us today.
If you were injured or a loved one died in an upstate New York crash caused by a wrong-way driver, you owe it to yourself to set up a free legal review of your case.
A knowledgeable and experienced car accident attorney can help you get the medical care and treatment you need, investigate your claim, find evidence to build your case, represent you in settlement negotiations, and file a lawsuit on your behalf if the insurance company won't offer you a fair financial settlement.
Attorney James Morris is a highly skilled personal injury lawyer in Buffalo who has been practicing law for more than 30 years and has won millions of dollars in settlements and verdicts for his clients. Attorney Morris isn't afraid to take on complex cases and fight hard for victims struggling to recover from injuries. Over the years, he has built relationships with accident scene investigators, reconstruction experts, medical professionals, and others who can provide the expert testimony you need to win your claim.
Find out what the Law Offices of James Morris can do for you.
Contact us today to schedule a free case consultation.