A Buffalo Attorney Discusses Saint Patrick's Day and Drunk Driving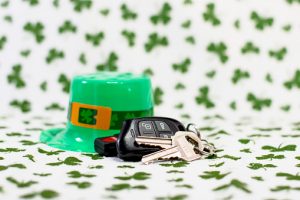 Many Buffalo residents and visitors are gearing up to celebrate Saint Patrick's Day. Last year, Buffalo ranked No. 4 among the top ten cities in the US celebrating this holiday. In fact, the 78th annual celebration parade in downtown Buffalo brought out an estimated 50,000 people.
Saint Patrick's Day is commonly known as a drinking holiday, which comes with risks that revelers should be prepared for.
Be aware. Drunk drivers will be out this season.
According to WalletHub, about 60 percent of Americans planned to celebrate Saint Patrick's Day in 2018. The rate at which drunk driving causes a fatality during the holiday is every 36 minutes. About 75 percent of fatal crashes involve drivers who have consumed twice the legal limit.
Additionally, Saint Patrick's Day is the 4th most popular day to consume alcohol – just behind Fourth of July, Christmas, and New Year's.
The National Highway Traffic Safety Administration reports that 60 people were killed in fatal crashes during the St. Patrick's Day holiday period in 2016.
Despite the repeated slogan "don't drink and drive," it's probable that many drivers will be under the influence of alcohol this Saint Patrick's Day. Police will likely be out in full force looking to keep drunk drivers off the road, but unfortunately many of these drivers will go under the radar and it will be the responsible drivers who pay.
Identifying negligence in drunk driving accidents
At the Law Offices of James Morris, we have seen the devastation caused by drunk drivers. A single crash can change a victim's life forever. Injuries can range from broken bones to permanent spinal cord injuries – leaving a victim with a heap of medical expenses, financial hardship, and loss of life enjoyment.
At worse, a drunk driving accident can result in someone's death, causing emotional and psychological suffering to loved ones.
Determining negligence in a drunk driving case can often be simple. When police respond to a crash, they will most likely test the at-fault driver to determine his or her blood alcohol content.
In some cases, drunk driving accident cases can be more complex, if a bar or establishment can be held accountable for knowingly serving alcohol to an apparently intoxicated individual or minor under New York's dram shop law (General Obligations, Section 11-101).
Should you or a loved one be injured in a car accident due to a drunk driver's reckless behavior, you may be eligible for compensation for medical bills, lost wages, pain, and suffering. It's important that you contact our law firm to get started on your personal injury claim. We offer free case evaluations and operate on a contingency fee basis, which means you don't pay unless we win.