Spinal Injuries in Auto Accidents in Buffalo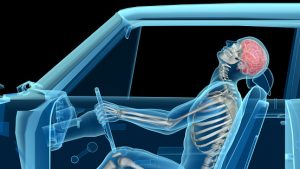 New York is a no fault auto insurance state, which means many accident victims get coverage from their own personal injury protection (PIP) policy after a car accident injury. However, if a crash victim experiences an injury considered to be serious, this can give the victim the right to pursue civil action against someone else who was at fault for causing the auto accident. There are lots of different kinds of injuries, but some of the most serious are those affecting the spinal cord.
Spinal cord injuries in auto accidents can be life changing and often result in ongoing medical expenses and an impaired ability to work, if the victim can work at all. It is imperative to understand what options you have available to you as a spinal cord injury victim for seeking compensation. Anyone who was responsible for your auto accident injuries, from a careless driver to a car manufacturer, could potentially be made to pay you damages. The money you receive can help you ensure you can afford to provide for yourself and your family and can make it possible for you to get the best medical care.
When most people think of a spinal cord injury, they think of an injury that causes complete paralysis. Many spinal cord injuries do in fact make it impossible to control affected parts of the body and can result in the victim becoming paralyzed. However, there are different kinds of spinal cord injuries and not all of those injuries will result in a person being left unable to walk or move.
Some of the different types of spinal injuries an auto accident victim could suffer include:
Anterior cord syndrome: ACS causes damage to the front of the spinal cord. The result is both sensory and motor pathways sustain damage. Movement will be difficult or impossible.  You may still have some lingering feeling in affected parts of the body.
Central cord syndrome: With this type of injury, the center of the spinal cord is damaged. Nerves are also damaged which carry signals from  your brain to your spinal cord.  You may experience paralysis of the arms and loss of fine motor skills. There may be some impairment in the legs, but the impairment in the legs is usually not as profound as it is in the arms or as it is with other types of spinal injuries. In some cases, bladder, bowel control, and sexual function is lost in patients suffering from central cord syndrome.
Brown-Sequard syndrome: This injury occurs when just one side of the spinal cord is damaged. You may experience profound effects on one side of the body, such as becoming unable to move your left side. The other side of your body may retain full movement.
If you suffer these types of spinal cord injury, or any type of spinal cord injury, you should consult with an attorney as soon as possible following the auto accident in order to determine if anyone can be held accountable for losses.