The Risks Of Autumn Driving In Buffalo, New York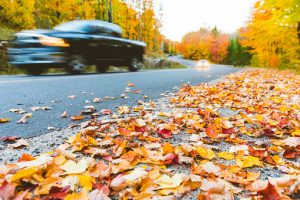 The clocks have turned back an hour, the foliage has come and gone, and November is in full swing. What does this mean for drivers in the Buffalo area? According to a 2016 report by Statista (the most recent report), 2,998 people lost their lives on US roadways during the month of November. And as drivers in Buffalo know very well, motor vehicle accidents often occur this time of year due to shorter days, longer nights and increasingly hazardous weather conditions. 
Shorter days, more hazardous driving conditions
After daylight savings time ends, motorists spend more time driving in the dark. According to the National Safety Council (NSC), this can create limitations in visibility: 
On average, drivers may only see up to 250 feet without high-beams

 

Drivers who use high-beams may see up to 500 feet

 

Drivers around 50 years old may require twice as much light as drivers around 30 years old. 

 
Daylight savings can also affect drivers' circadian rhythm or internal clock. The prolonged nighttime hours can increase the release of a natural chemical called melatonin, which programs us to sleep. This can put drivers at risk of falling asleep behind the wheel. In fact, according to the New York State Governor's Traffic Safety Committee, accidents caused by drowsy driving are most likely to happen during the first week of the time change. 
According to 2014 statistics by New York State Department of Motor Vehicles (the latest statistics), there were a total of 1,343 traffic accidents caused by drowsy driving statewide, which resulted in eight fatalities and 687 injuries. Another 5,198 accidents were caused by limited or obstructed visibility. This resulted in 20 fatalities and 2,231 injuries.  
What to watch out for this season
According to Esurance, the month of November often ushers in slippery road conditions that Buffalo drivers must adjust to. 
These include:  
Wet roads, fallen leaves: After the foliage comes to an end, leaves may cover the roadways. When combined with rain and dampness, fallen leaves can be just as slippery as ice. Additionally, they can cover traffic lines in the road, making it more difficult for drivers to navigate.

 

Icy road conditions: As the temperature dips below freezing overnight, ice and frost can develop on the roadways. Drivers should especially be aware of icy road conditions when approaching bridges, underpasses, and other areas that may not receive a sufficient amount of sunlight. 

 

Occasional snow: While snow is more likely to happen during the winter months, it can happen in November, especially in the Buffalo area. Drivers unprepared for the first snowfall of the season in Buffalo (which usually occurs in late October) can be at risk of causing an accident.  

 
During the month of November, Buffalo drivers are urged to reduce their speed, maintain a safe following distance, avoid distracted driving, and stay sober. If you or a loved one was injured in a crash caused by another driver, contact our law firm and find out how we can help you.