Recent Dog Attack Prompts Discussion About Animal Control, Owner Responsibility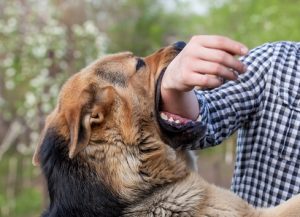 A 6-year-old boy was killed and another was seriously injured in a dog attack while walking to school last month in Atlanta, prompting discussions nationwide about animal control laws and the responsibility of dog owners.
According to The Washington Post, a five-year old girl was seriously injured and required multiple surgeries, while a six-year-old boy was killed by the dogs, who had escaped from their fenced yard. Neighbors reported that the dogs had a history of roaming the neighborhood, but did not report a history of violence.
In response to this attack, officials in Atlanta and Fulton County recently began discussing their animal laws and the future of an animal control arrangement between the county and its cities which expires this year, according to the Atlanta Journal-Constitution,
This is not a new conversation. The state of Georgia itself had considered legislation that would prevent local governments from banning specific dog breeds in 2015, but ultimately decided to leave that power in local hands. Nationwide, officials have had similar discussions involving dog attacks and legislation aimed at preventing such incidents.
Dog Bite Law in New York
Dog bites are a serious concern across the nation. An estimated 1,000 people each day require emergency medical treatment due to a dog attack, according to statistics compiled by DogsBite.org between 1982 and 2014.
In New York, the victim must prove a prior vicious propensity for violence on the part of the dog. This means the dog was violent in the past and the owner was aware of this tendency. However, proving that a dog has a history of violence can be difficult. Often, there are few witnesses who saw a dog's prior vicious behavior. And if someone did see something, many don't want to get involved in such legal disputes.
As a result, the investigation process often takes more time and injury victims have to wait longer to receive the compensation they rightfully deserve. That's primarily because negligence is not accepted in New York as a grounds for medical compensation after a dog bite.
Based on deadly dog attacks like the one last month, New York officials should consider revising the state's dog bite laws, just like officials in Fulton County and Georgia. Dog owners should be liable for damages caused by their animals without requiring victims to prove that a dog has a history of violence. Investigating a dog's previous behavior often takes a tremendous amount of time and money.
If the attack in the Atlanta area happened in New York, it's likely that the victims' family might not be able to obtain financial compensation since neighbors in the Atlanta suburb where the deadly attack happened last month said that the dogs were not violent in the past.
Dog Safety
New York officials need to consider changing the state's laws to protect people from violent dogs. Specifically, New York lawmakers should consider:
Changing the requirement that dog bite victims must prove that a dog had a history of violence before the attack occurred. Dog owners should not have to gather such evidence. If a dog viciously attacked someone, that should be more than enough proof that a dog is violent and the dog owner should be held legally responsible for such an attack.
Banning certain dog breeds. Certain communities nationwide have chosen to take this approach in an effort to reduce the number of violent dog attacks. Breed-specific legislation often targets pit bulls, Rottweiler's, Dobermans and other specific breeds.
Limiting the number of dogs people can own. Some counties nationwide restrict the number of dogs people can own based on how the property is zoned. Officials in California, Illinois, North Carolina and Oregon have such laws in certain counties, according to news reports.
Making dog obedience classes mandatory for all dog owners. New York State previously considered adopting such legislation in 2011 requiring mandatory dog obedience training. It's important that dogs know their limits and understand certain commands and respond on cue from their owners.
In the meantime, dog owners and neighbors should consider taking the following steps to keep everyone safe and prevent dog attacks from happening:
Dog owners
Make sure dogs securely contained on properties. Larger dogs require sturdier fencing. And if dog owners fail to properly contain their dogs, they should be held legally responsible for any attacks caused by their dogs.
Use a sturdy leash when walking dog in neighborhood. If a dog becomes aggressive or violent, dog owners should be able to pull the dog back and prevent the dog from harming a person or another dog.
Neighbors
Do not provoke dogs. Even if an animal seems friendly and happy at a given moment, dogs should not be teased or harassed. Children should be taught how to safely interact with dogs. If a dog is loose, give it space and contact the dog's owner, local animal control, or local police so the dog may be safely collected and taken home or to a safe location.
Make note of any violent habits or tendencies in dogs. If you see a neighbor's dog behaving in an aggressive or violent manner, write down the exact time and date you observed such behavior. You may even want to consider reporting such threatening or dangerous behavior to police. If an attack happens under current New York law, this information will be vital in getting justice for the victims or their families in a timely manner. If the danger is great enough, making the owner and/or law enforcement aware of it may even help prevent an attack from happening.
Understanding what to do after a dog attack can be confusing. That's why it's important to contact a New York attorney familiar with the state's laws and handling such complex cases. If you or a loved one has been attacked by a dog in New York, contact the Law Offices of James Morris to learn more about your rights and all the legal options available to you.