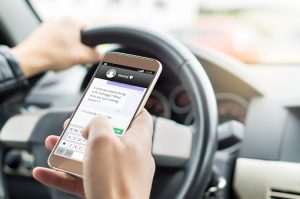 States including New York are considering regulation of a device called Google Glass, which looks like a pair of glasses and allows users to surf the Internet, take photographs, check-email and even watch videos – all with a blink.
The technology is pretty amazing – but perhaps not so much while driving. State lawmakers have requested direction from the department of motor vehicles on how a behind-the-wheel ban on the devices might be enforced.
Buffalo accident lawyers at The Law Offices of James Morris recognize that as it stands, distracted driving is a major factor in automobile collisions.
How many accidents are caused by distracted drivers?
The issue of driver distraction may be even more serious than previously anticipated. New research indicates that many crashes caused by distraction are instead categorized simply as "careless driving" in traffic citation records.
There may be some instances wherein drivers are cited for prohibited use of a handheld device (New York state bans texting and the use of all handheld cell phone devices while driving), more often than not, distraction can be difficult to prove.
For one thing, it's not like drunk driving, where a test can determine whether drivers were negligent at the time of a crash. Phone records, witness statements and other evidence may be used to piece it together, but there is often no definitive determination.
Plus, there are more forms of distraction today than ever.
Let's start with cell phones. In May of 2011, 35 percent of Americans owned a smartphone. By May 2013, 56 percent of people owned a smartphone.
Then there are devices like Google Glass. While it offers features like navigation, these elements have proven distracting to the person behind the wheel. But again, it can be tough to prove. A woman in California was pulled over and cited by a state trooper for "having a TV screen visible while driving." Some 37 states and the District of Columbia have laws against it. However, the ticket was eventually tossed because there was a lack of evidence to prove the device had been enabled while she was driving.
Studies shed light on dangers of in-dash vehicle technology
More than ever, technological devices are coming standard-issue with the latest models of vehicles in the form of "infotainment" centers build right into the dash. Common features include GPS mapping technology, hands-free dialing and speech-to-text, Internet searches and even videos and games.
While car manufacturers have promised that these systems are safe and will actually help to reduce distractions, the research that is emerging suggests those assertions fall short of the truth.
For example, a recent AAA study indicates that speech-to-text phone or e-mail systems, the kind that are common in the latest infotainment offerings, are even more dangerous than listening to the radio or using a handheld cell phone.
Where companies are working on ways to integrate even more speech recognition software into vehicles, AAA warns that this will make the roads inherently more dangerous.
Anytime your hands are off the wheel or your eyes and attention are off the road, there is a danger. It need not be technologically-driven. Distraction comes in many different forms, be it your children in the back seat, the pets in your lap or the Google Glass on your head.
For the most part, whatever it is can wait until the car is in park.
Contact a Buffalo accident attorney at the Law Offices of James Morris at 1-800-477-9044.  Attorney advertising.