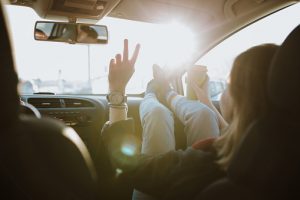 One 15-year-old was killed and her 13-year-old sister critically injured recently in a New York car accident, when their 19-year-old brother reportedly struck another vehicle while making a U-turn.
After the initial hit, investigators say the older teen struck several parking meters and then a utility pole. The youngest of the three was ejected. The 15-year-old was pronounced dead at a nearby hospital.
At The Law Offices of James Morris, our Buffalo car accident lawyers haveseen far too many cases where young lives were lost prematurely due to negligence on the roads. We don't yet know the cause of this crash – that's still under investigation. What we do know is that with prom and graduation right around the corner, it's imperative that parents initiate a conversation with their teens about safe driving.
Other Teens Remain a Significant Distraction for Young Drivers
One of the biggest issues for teens to overcome is distraction. One of the greatest distractions? Other teens.
When a young driver has a group of peers in the vehicle, the risk of a crash rises with each additional passenger. In fact, most teens who are killed in auto accidents are passengers in vehicles driven by other teens, according to the New York State Department of Health.  This is particularly relevant as we approach spring, with formal dances and graduation parties galore. Arranging for a professional driver (a limousine for formal event, maybe a taxi for informal events) may alleviate your fears regarding this issue.
Bear in mind too that as of February 2010, it's been illegal in New York State for a junior licensed driver to have more than one passenger under the age of 21 in his or her vehicle absent a parent, guardian or driving instructor.
As a parent, you may consider extending that rule until your child reaches the age of 18.
The other biggest distraction, of course, is the cell phone. Research from the Virginia Tech Transportation Institute and the National Institute of Child Health and Human Development indicate that teens who text and drive are nearly four times as likely to crash as a teen who isn't texting. Dialing a phone was even worse, making teens 8.3 times more likely to crash than peers who weren't dialing. (Compare that to experienced drivers, whose risk was 2.5 times greater than their non-dialing counterparts.)
Those same researchers, whose work was recently published in The New England Journal of Medicine, learned that teens start out very cautious when they begin to drive. However, as time passes, they start to engage in riskier and riskier behaviors, like texting, talking to passengers and eating. Specifically, during the first six months of having a license, teens were far less likely than experienced drivers to engage in secondary tasks. However, between months 7 and 15 of having a license, teen drivers matched their older counterparts in secondary tasks. During months 16 through 18, they had exceeded more experienced drivers in distractions.
In other words, their sense of confidence behind the wheel quickly becomes inflated.
New York has one of the toughest cell phone laws on the books, banning all drivers – not just teens –  from using handheld phones and texting behind the wheel.
The other major issue for teen drivers, particularly around prom and graduation, is drinking. The National Highway Traffic Safety Administration reports that in 2011, 32 percent of drivers between the ages of 15 and 20 who were killed in crashes had been drinking.
Parents should make sure their teens understand that there will  be zero tolerance for such actions, but also that your teen can call you without retribution to come get him or her and avoid either driving drunk or riding with a drunk driver.
Contact the Law Offices of James Morris in Buffalo today for a free consultation. Call 800-477-9044 or visit www.jamesmorrislaw.com. Attorney advertising.